Visit Desert Hot Springs – Plan a vacation or stay-cation!
Posted on December 11, 2022
Explore our mineral water spas, hotels, and local adventures.
Desert Hot Springs is a true oasis, home to some of the world's finest naturally occurring hot mineral springs. For years, these world-class waters have driven the economy, with polished marble resorts, retro-hip motels, and ultra-exclusive celebrity retreats feeding off of their energy. Today, Desert Hot Springs means so much more.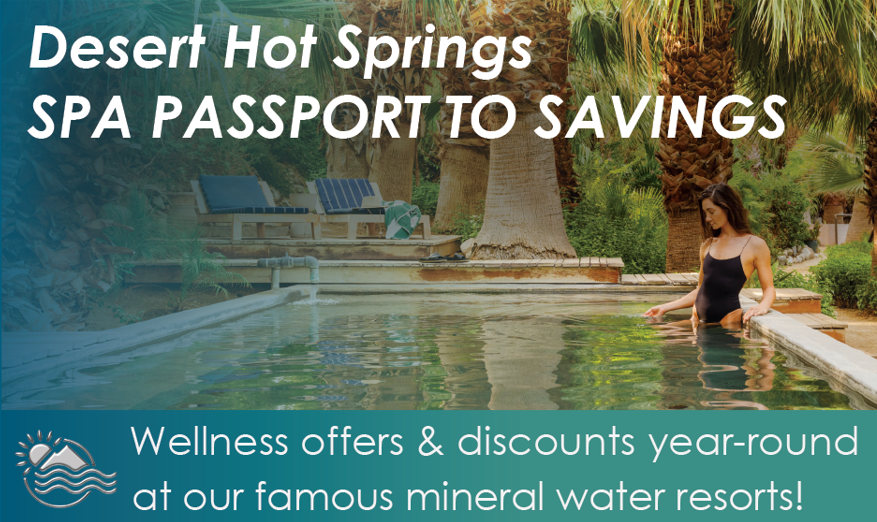 Desert Hot Springs Spa Passport to Savings
Be Refreshed
Be Relaxed
Be in Desert Hot Springs
Participating spas:
Aqua Soleil Hotel & Mineral Water Spa 14500 Palm Drive (760) 329-4481 www.aquasoleilhotel.com Offer: Mention DHSPASS when booking over the phone or book online here https://hotels.cloudbeds.com/reservation/G3ALnc#promo=DHSPASS.
Azure Palm Hot Springs Resort & Day Spa Oasis 67589 Hacienda Ave. (760) 251-2000 www.azurepalmhotsprings.com Offer: Present your DHS Spa Passport card when ordering for one free entree item with the purchase of a second entree item of equal or lesser value. One-time use only per card only. Offer expires 4/30/22.
Desert Hot Springs Inn 67840 Hacienda Ave. (760) 600-0246 www.deserthotspringsinn.com Offer: 10% off hotel stay (excluding March and April 2022; direct bookings with the hotel only, no 3rd party bookings)
El Morocco Inn & Spa 66810 4th Street (760) 288-2527 www.elmoroccoinn.com Offer: $25 off /night discount for any weeknight (Sun-Thurs) reservation using the promo code: DHS.
Mi Kasa Hot Springs Resort 11076 Ocotillo Rd. (760) 853-1004 www.mikasahotsprings.com Offer: Spa Admission Specials: Weekdays (Monday – Friday): $30 and Weekends or Holidays: $40 (Reservation is required, No outside food or drinks allowed, No in and out privileges)
Sandpiper Inn 12800 Foxdale Drive (760) 329-6455 Offer: Day Pass – $15.00 for 2 hours and 10% off hotel stay
The Good House 12885 Eliseo Rd. (760) 251-2885 www.welcometothegoodhouse.com Offer: $10 off any spa treatment or day pass
The O Spa & Resort 11740 Mesquite Ave. (760) 671-6889 www.theospahotsprings.com Offer: 15% off any massage. Book 2 or more nights; get one night free (nights have to be consecutive; Sunday – Thursday only).
#ThisisDHS