Updated: Newsom signs trans remembrance bill
by Matthew S. Bajko Assistant Editor Thursday Jun 23, 2022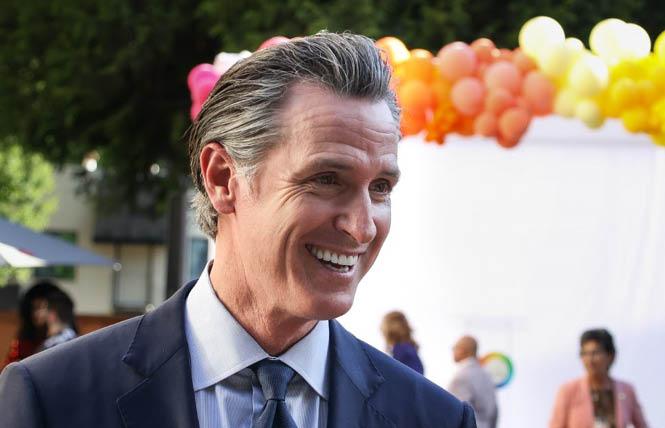 Governor Gavin Newsom attended a Pride Month event June 23 with the California Legislative LGBTQ Caucus where he announced that he signed a bill that will annually proclaim November 20 as Transgender Day of Remembrance. Photo: Courtesy the Governor's Office  
Governor Gavin Newsom on Thursday night announced that he signed Assembly Bill 1741 to honor victims of transphobia.
According to a release from his office, Newsom made the announcement at a gathering with members of the California Legislative LGBTQ Caucus at the historic Governor's Mansion for the caucus's 20th anniversary Pride celebration and to highlight California's leadership on LGBTQ rights.
First partner Jennifer Siebel Newsom also attended, the release stated.
"In California, we fight for and celebrate our LGBTQ community's right to live their lives out loud," Newsom stated. "I'm proud to stand with our LGBTQ Caucus today and lift up their commitment to advancing equality, freedom and acceptance. As we push back on the forces of hate that seek to undo our progress, California will continue to lead the way to a better, fairer future for all."
Added Siebel Newsom: "We're committed to supporting members of the LGBTQ community to live as their most authentic selves and will fight to safeguard the policies that protect those rights. Alongside the Governor and the LGBTQ caucus, I encourage us all to continue to lead with California's values of respect, equality, kindness, and acceptance because that's the California Way and the best way forward."
AB 1741 is the one of two bills relating to transgender issues that the governor was sent this week. It adds California to the list of states that annually proclaim November 20 as Transgender Day of Remembrance.