DHS Pride Festival Planning Meeting – Come Join the Team – Saturday, July 9th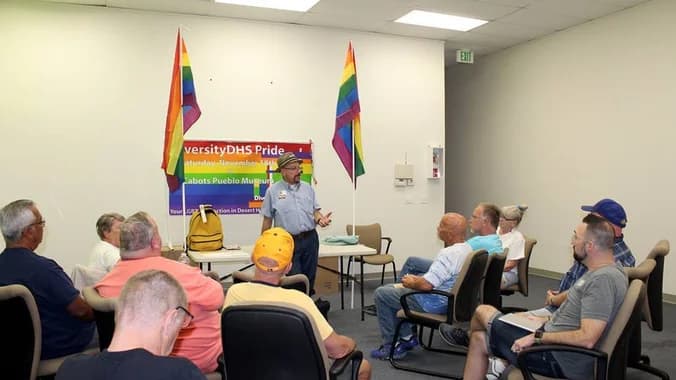 Details
DiversityDHS is back to in-person planning meetings for fully vaccinated folks. For those not yet vaccinated, we offer online attendance. Simply let us know and we'll email you a link to join the meeting. We are looking for additional volunteers to help build our next pride festival. Join the team. See contact info below.
The planning of the 2021 virtual Desert Hot Springs Pride Festival continues as well as the 2022 in-person festival. In addition, we'll be planning fundraisers to cover the costs of the festivals as well as events to support our local youth and fellow LGBTQ+ organizations. Come discover how you can help. We welcome everyone's participation and ideas.
We also cordially invite you to join our team in support of our ever-growing Desert Hot Springs LGBTQ community, now estimated to be a third of our city's population. All you need is a dedication to help plan the events as part of a team. You may reside anywhere in Coachella Valley and identify as LGBTQ or LBTBQ+-friendly. We are open to all as we bring to life our name of Diversity.
It's simple to join. First, if you are interested in joining our Board of Directors whereby you have a vote on all motions brought to the board, then request an application via DiversityDHS@roadrunner.com, complete and return it to us as indicated below, or, if interested in helping on a committee, then attend our next meeting, normally the SECOND SATURDAY of each month beginning at 3:00 p.m. inside The DESERT HOT SPRINGS LIBRARY CONFERENCE ROOM, 14380 PALM DRIVE AT THE INTERSECTION OF PARK LANE JUST SOUTH OF THE VON'S PLAZA (92240).
Let us know if you have any questions. Looking forward to hearing from you soon. Feel free to share this email with anyone you may recommend in joining our team.
Thank you.
With best regards,
Daniel Pitts, President
Sam ZzeniaMessler, Immediate Past President – Secretary – Co-Founder,
DiversityDHS/Your LGBTQ+ Connection in Desert Hot Springs
14080 Palm Drive, Suite D423
Desert Hot Springs, CA 92240
Cell 760-799-3790
Email: DiversityDHS@roadrunner.com
Organizational Website: www.DiversityDHS.org
Facebook: https://www.facebook.com/groups/1447337608855040/
Meetup.com: https://www.meetup.com/DiversityDHS-Your-LGBT-Connection-Desert-Hot-Springs-Meetup/