Desert Hot Springs Classical Concerts, Community-Powered Classical Concerts
A hidden gem in the greater Palm Springs area, since 2014…
In 2010, concert pianist Danny Holt relocated from bustling Los Angeles to the quiet city of Desert Hot Springs, after falling under the spell of the area's breathtaking natural beauty. In 2014, he produced a concert at a local church on a sizzling hot Sunday afternoon in August, featuring colleagues who were visiting from New York City. When an enthusiastic audience turned out–even on the hottest of hottest days–Danny knew there was an appetite for live classical music in his newly-adopted hometown, and he founded Desert Hot Springs Classical Concerts.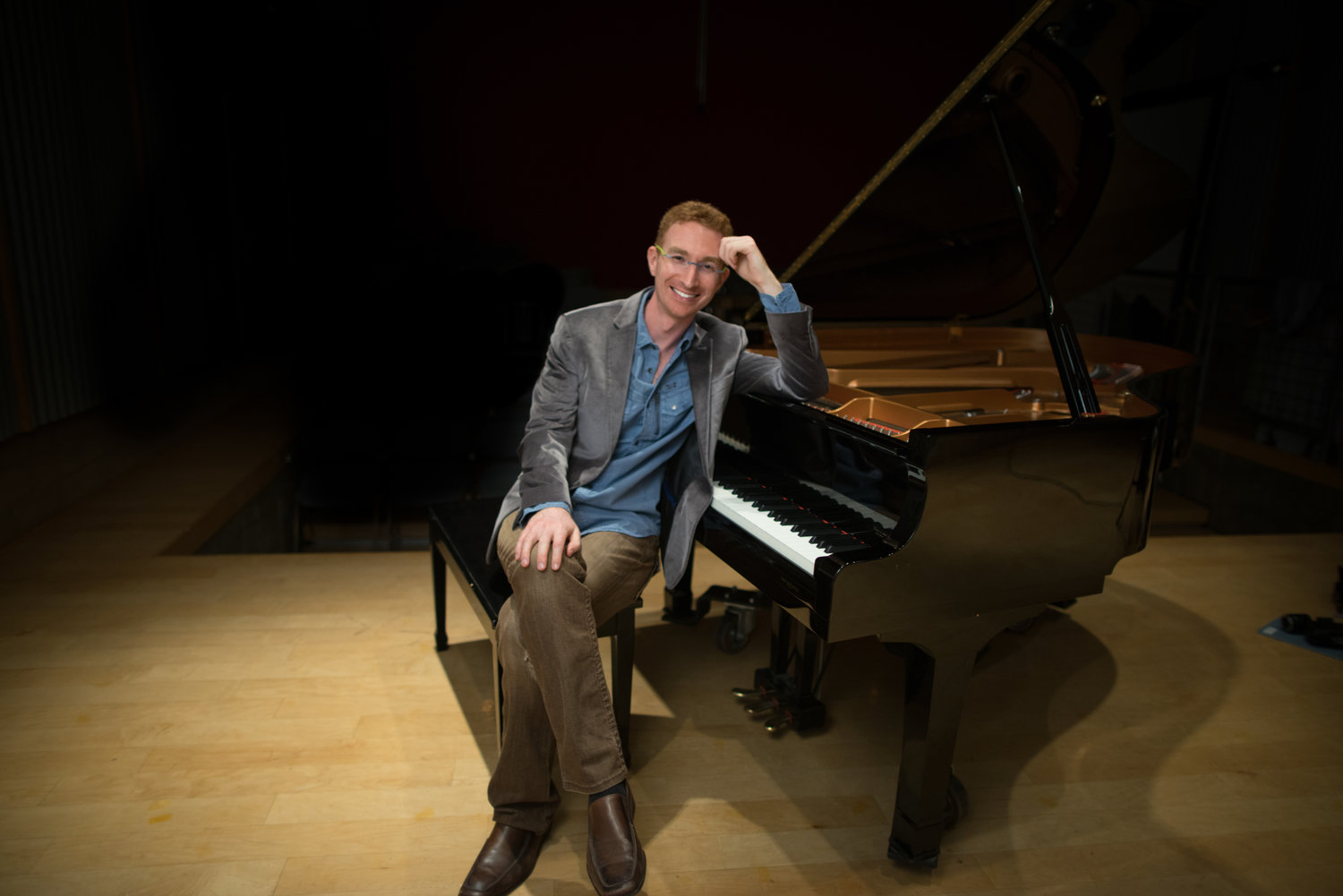 When concert pianist Danny Holt moved from Los Angeles to Desert Hot Springs, he noticed a hunger for more arts and culture in his newly adopted hometown. In 2014 he took it upon himself to do something about it, creating Desert Hot Springs Classical Concerts to bring first-rate classical music to the city. The reaction from the community was overwhelming: there is an enthusiastic audience for live classical music in Desert Hot Springs!
In recent years the series has expanded its offerings, presenting concerts at numerous venues throughout the city and building on our partnership with the local schools. Now in our ninth season, our concerts feature established professional artists who are gifted at bringing classical music to life through their performances–inspiring and informing the audience about the music through their fun, insightful, and dynamic presentations.
Admission to the concerts is free, thanks to underwriting from the City of Desert Hot Springs, local businesses and community organizations, and generous support from individual donors. Cash donations at the door at each concert are always appreciated, and are a crucial part of sustaining the concert series. (And now donations can be made online too!)
Sunday, April 2, 2023
4:00 PM 5:00 PM
Grace Church (map)
Originally scheduled to perform in April 2020, piano duo 4handsLA finally returns to Desert Hot Springs Classical Concerts in an exhilarating program of four-hand piano fireworks. Their program showcases their signature virtuosic and playful style in orchestral blockbusters by Respighi, Stravinsky, and Ginastera.
4handsLA is L.A.'s "dazzling" (Los Angeles Times) piano duo. The Huffington Post wrote that the duo's first performance "created a sensation" on the Jacaranda: Music on the Edge of Santa Monica series. Since then, the energetic duo of Steven Vanhauwaert and Danny Holt has recorded two albums and performed dozens of concerts. They were finalists at the Liszt 200 Chicago International Duo Piano Competition, and have been artists-in-residence at the L.A. Musical Salon and at The Harvard-Westlake School. Vanhauwaert and Holt are also active soloists, having performed at Carnegie Hall, Walt Disney Concert Hall, the Concertgebouw, and other venues across the U.S., Europe, and Asia.
Free admission. Cash donations graciously accepted at the door. Thank you!APR6
Thursday, April 6, 2023
7:00 PM 8:00 PM
Miracle Springs Resort & Spa (map)
As a special fundraiser for Desert Hot Springs Classical Concerts, Chicago-based cellist Anita Graef presents an intimate solo cello recital.
Program TBA
For this special event, a suggested donation of $20-40 is requested at the door. Thank you for supporting live music in our community!
Described as a musician of "superb artistry" (Pasadena Now) who plays with "high energy and polish" (WQXR), cellist Anita Graef has earned recognition for her music making as an artist who is equally at home exploring traditional as well as contemporary works, along with a deep commitment to service, outreach and education. Notable appearances include features in Strings Magazine, as well as Carnegie Hall's Weill Recital Hall, the Dame Myra Hess Memorial Concert series, and "Concerts from the Library of Congress." She has performed on various radio networks, including WQXR, WFMT, WGTE, WUOL, WOSU, and NPR. Recent and upcoming concerto engagements include her New York debut with the Riverside Symphony, the Louisville Orchestra, Arkansas Philharmonic Orchestra, with recital appearances at the Museum of Fine Arts St. Petersburg, Ojai's Chamber on the Mountain, Kenyon College, the Nielsen Concert Series, and return appearances to "Live from WFMT" and "Temecula Presents," among others.
---
Sunday, March 5, 2023
4:00 PM 5:00 PM
Grace Church (map)
This electrifying trio will present powerful masterpieces by Beethoven and Brahms:
Beethoven: Trio in Bb Major, Op. 11
Brahms: Trio in A Minor, Op. 114
Donald Travis Foster is one of Southern California's most active musicians. He is Principal Clarinet of the Pasadena Symphony and Second Clarinet of the Los Angeles Opera Orchestra and has just begun his 26th season as the Santa Barbara Symphony's Principal Clarinetist. A frequent studio musician, Don has been featured on numerous soundtracks for motion pictures and television, most notably with the eminent film composer, John Williams. Don graduated from the University of Southern California, receiving his Master of Music degree in 1996 while in the studios of Yehuda Gilad and Michele Zukovsky. He has received Fellowships from both the Tanglewood and Aspen Music Festivals, the latter of which he attended for four consecutive summers. Don serves as Professor of Music at Riverside City College and divides his time between residences in Downtown Los Angeles and Red Wing, Minnesota, where he owns and runs the newly acclaimed Home Plate Grill and Dugout Lounge restaurant.
John Walz is a celebrated soloist and chamber music artist, known for his dazzling virtuosity and elegant musicianship. A student of the legendary French cellist, Pierre Fournier, he has appeared as soloist with more than 150 symphony orchestras on 4 continents. In addition to his solo and chamber music duties, he is currently the principal cellist with the Los Angeles Opera, a position he previously held for 20 years with the Long Beach Symphony. His ever expanding discography includes recordings of the concertos by Dvorak, Haydn, Shostakovich, Bloch, Martinu, Vivaldi, and trios by Brahms, Dvorak, Smetana, and the newly released Pacific Trio CD featuring Beethoven's Triple Concerto and Archduke Trio. Visit the Pacific Trio website. He is on the faculty of the Idyllwild Arts summer program and Academy.
Los Angeles based pianist Miloš Veljković has performed in numerous chamber music ensembles in Norway, Serbia, Germany, The Netherlands, Montenegro, Bosnia and Herzegovina and throughout the United States. Milos' repertoire includes pieces from baroque to contemporary music. His interpretations are characterized by a great expressivity and temperament, refined technique, and a warm sensitivity for sound color. His way of playing has often led to mutually inspiring collaborations with contemporary composers. Milos has taken part in some of the most important musical events in Serbia, such as BEMUS, the International Review of Composers, KOMA and BITEF. He has recorded for labels in Serbia and the UK, and the Serbian national broadcasting system, RTS, has broadcasts some of his live performances. For more information, please visit: www.milosveljkovic.com
Free admission. Cash donations graciously accepted at the door. Thank you!FEB22
Wednesday, February 22, 2023
7:00 PM 8:00 PM
Desert Hot Springs High School – Black Box Theater (map)
TC4 brings an eclectic program of music for saxophone quartet, including music by Venezuelan composer Aldemaro Romero, French composer Eugene Bozza, and American music including by Michael Daugherty, and a world premiere by Chris Evan Hass.
Celebrated for their unique approach and virtuosic performances, TC4 has delighted audiences in the greater Los Angeles area, introducing audiences the exciting music of the saxophone quartet. TC4 uses their unique style to create a fresh environment for classical music; to reflect our lived experience and mixed culture, blending the known with the unknown. They have championed the music of living composers, including Andrew Sigler, Joel Love, Nina Shekhar, and Michael Markowski. The members of TC4 include Andrew Harrison, Isaac Lopez, Frances Cisneros, and Robert Alexander.
Free admission. Cash donations graciously accepted at the door, to benefit the high school's performing arts programs. Thank you!FEB18
Saturday, February 18, 2023
2:00 PM 4:00 PM
The Afternoon Concert Crawl is back! Featuring performers at Cabot's Pueblo Museum, the City Hall Amphitheater, and the new Desert Hot Springs Library. At each venue, short performances will begin at 2pm, 2:45pm, and 3:30pm, making it possible for audience members to attend all three concerts in whatever order they choose. It's a Choose-Your-Own Adventure concert experience!
Vanessa Fountain (harp)
Cabot's Pueblo Museum
67616 Desert View Ave., Desert Hot Springs, CA 92240
Jeffrey Krieger (electric cello)
City Hall Amphitheater
11999 Palm Dr., Desert Hot Springs, CA 92240
Margaret Irwin-Brandon (harpsichord)
Desert Hot Springs Library
14380 Palm Dr., Desert Hot Springs, CA 92240
Free admission. Cash donations graciously accepted at the door. Thank you!